Magical Gemstone Jewelry
will help you express your style!
Click on the links above to shop by category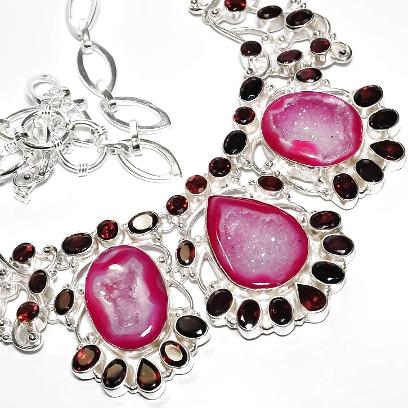 The Benefits of wearing Gemstone Jewelry
These artful pieces of genuine crystal and gemstone jewelry are not only beautiful to look at, they also offer the wearer healing properties and, many believe, bring forth to the owner protection and certain attributes that they desire to make manifest in their lives. In this manner they serve a wonderful duel purpose; they are not only decorative, they bring multiple other benefits to their owners. Whether they are worn purely for their good looks, for the energy they give off or for both of these reasons, crystal and gemstone jewelry clearly has an advantage over other materials used for making jewelry.
Copyright © 2012 Magical Gemstone Jewelry. All rights reserved.
Welcome to Magical Gemstone Jewelry!
On this website you can find a special selection of exclusive, handmade, high quality Genuine Gemstone 925 Sterling Silver Jewelry. This collection includes
jewelry in bracelets & watches, rings, necklaces, pendants, earrings & matching sets. Each piece is one of a kind designer gemstone silver jewelry. You will be amazed at the quality of the presented pieces of jewelry. We have jewelry for every occasion, and we are here to help you find the perfect fit.


Browse our Products and Shop Online!
Click on the link below to visit our new website
Gemstone Jewellery Online Store

Our online jewelry store is a treasure box full of jewelry inspiration, accessory and gift ideas. If you're looking for that exclusive piece to complete your outfit, you just found the right place!

If you are searching for a specific piece of jewelry not presented on this site, feel free to contact us, we might find that desired piece in our showroom.
Customer Reviews
"Fabulous ring, my daughter loves it, a great Birthday gift. Thank you :)"
~ Mike, Auckland, New Zealand
"Great purchase, so quick and ring better than imagined in terms of quality."
~ Kerry, Napier, New Zealand

"The ring has arrived safely. Its lovely and fits perfectly on middle finger.
Very happy, thank you. Excellent purchase, AAA+++"
~ Sharron, Whangarei, New Zealand

"Stunning pendant & superfast delivery. Awesome seller, highly recommended."
~ Annette, Wakefield, New Zealand
Magical Gemstone Jewelry Location: Auckland, New Zealand. All prices in NZ$.